James Fea and Jean Cooper
\
James Fea and Margaret Sinclair
\
John Hadden Fea and Eliza Tough
David Fea and Jane Clark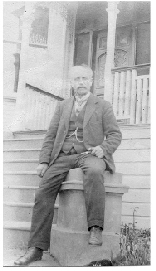 David Miller Fea
David Miller Fea was born June 13th 1856, second son of James Fea and Margaret Sinclair. He emigrated to New Zealand in 1873.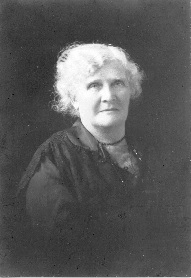 Jane Clark








He started in farming but later sold out to start a successful business as a general storekeeper in Maheno. He married Jane Stuart Clark (1855 - 1940) on 1st October 1880 at Port Chalmers, Otago, NZ. David and Jane had eight children:
John Hadden (Jack) was born 18th January 1881. He married Ethel Coptic Jolly in 1909. spent some time on the farm, bush clearing, but then went back to Dunedin to pursue a commercial life. In 1911 he went to Australia with his brother, James, when the Queensland Government was developing the Darling Downs and offering 1280 acres free to new settlers. Jack returned to New Zealand in the 1920s and re-established his family. Jack and Ethel had four children. Jack became a manufacturing chemist. He died 1st June 1952.
James was born 3rd June 1882 at Dunedin. He married Ada Jane Clifford (1884, Wiltshire, England - 1972) at Dunedin in 1907 and they had five children. James went to Queensland with his brother in 1911 and stayed there as a grazier. He died in Brisbane 22nd June 1947.
Inabella was born 17th March 1884 at Maheno. A talented musician, she played the piano beautifully even when she was very old. Ina married Peter George Dick (1883 - 1930) in 1909 and they had four children. She died 25th August 1974.
Eliza Jane (Lily) was born 29th March 1885 at Maheno. She married William Cooper Walter (1881, Scotland - 1955) and they had two children. Eliza died 3rd January 1968 at Wellington NZ.
Annie Rendall was born 25th November 1886 at Maheno. She married William Kinder (1888 - 1951) in 1910 and they had seven children. Annie died 19th July 1972 at Oamaru NZ.
Elsie May Long, born 22nd February 1891, was also a talented musician. She married Francis William Parker (1886 - 1961) in 1918 and they had five children. Elsie died 22nd October 1968 in Dunedin NZ.
David Brown, born 23rd September 1894, served on the training ship Amokura and then decided to be a farmer and went off to Kintail. He went to the war and married Ivy Irene Latta (1895 - 1961) on his return, in 1919. He died 27th January 1929 at Balclutha NZ. David and Ivy had three children.
William Rognvald was born 5th October 1898. He went to two World Wars, was a member of the 1919 Army Rugby Team which won the King's cup, was an All Black, became a GP and practised in Timaru, then Hamilton. He married Grace Morrell Flora Vizer (1895 - 1990) and had three children, Barbara, Bill and Jenefer. He died in Hamilton on 27th December 1988.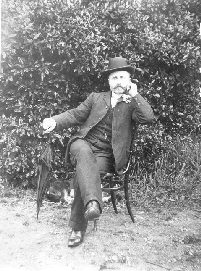 David Miller Fea



David Miller Fea died 1st June 1921 aged 64 years. He is buried in the Andersons Bay Cemetery, Dunedin.