Barbara Sinclair and George Organ
Barbara Sinclair was the third child of Janet Fea and James Sinclair.
She married George Organ at Holy Trinity Church, Paddington, London, on 14th November 1878 and lived at Delemare Crescent Paddington. George was born c. 1851 at Hardwick, Gloucester, England. One of the witnesses at the wedding was Barbara's sister, Elizabeth, who was living with them in London in 1881.
In 1881 George was a valet, one of the 14 servants to the family of Gottlieb Jacobson, a member of the Stock Exchange, at 25 Cromwell Rd, Kensington. George is listed as unmarried since it was not the done thing for servants to marry and this could have led to his dismissal.
Later, Barbara worked as a cook, while George was a butler.
Barbara Sinclair and George Organ had five children, of which three died in infancy. The two surviving childrern were: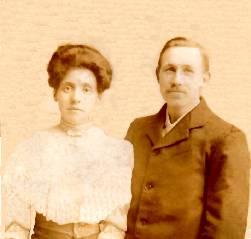 Henry Charles (Charlie) Organ with his wife
&nbspCatherine (Kit)Sinclair Cooper
Evelyn Margaret Organ b 1880 Paddinton. Evelyn married Harry Malcolm Bridle and they were both licenced victualers in Southsea, Portsmouth. She died in 1912 at Southsea.
Henry Charles Organ b. 2nd Feb 1885, Paddington; died October 1965.
George Organ died of consumption on 14th March 1891, Aged 39 years. He is buried in the Portsmouth Cemetery.
Barbara Sinclair died on 11th March 1933, at 9 Hope St., Levenhall, Musselburgh, Scotland. The informant for her death certificate was Charles Organ (son), whose address was 4 Carlaston St., Springburn, Glasgow.
---
Henry Charles (Charlie) Organ
Charlie was born 2nd February 1885, at 11 Delemere Crescent, Paddington, London. He went to Kirkwall and must have worked there as his occupation on marriage is given as a saddler. He married Catherine (Kit) Sinclair Cooper (b. 1880, Kirkwall) in 1906. Catherine's parents were William Cooper and Annie Sinclair. They had two children.
They moved to Springburn, Glasgow, after the war, and stayed there until Catherine's death in 1961. Henry Charles Organ then moved to live with his daughter in Falkirk, Scotland.