Elizabeth Fea and Dennis Kelley
Elizabeth Fea was born 24th of June 1841 in Falkirk and immigrated in 1853 with her family, eventually settling in Potosi, Missouri where she met and married Dennis J Kelly on the 24th of June 1863. She bore him three sons: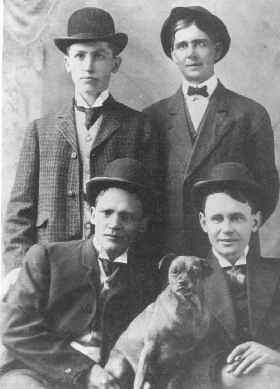 Three Kelly sons with cousin, Thomas Wallace Fea
(top, left), Moberly, Missouri, c1903
Thomas Kelley b. 29th April, 1865 Potosi, Missouri and married Wilma Ady 14th February 1911 at Omaha, Nebraska
Dennis E Kelley b. 19th February 1867 Potosi, Missouri d. 11th December 1955 Denver, Colorado
Leonard Kelley b. 6th February 1869 Potosi, Missouri
Following the birth of Elizabeth's third son, the family moved to Moberly, Missouri where they owned and operated Kelly Bros. confectionery, ice cream parlor and news dealership, a business in which they often employed other family members. Elizabeth also owned and ran a boarding house. Her husband Dennis is thought to have died in the early 1870s as he is not listed on Moberly's 1880 census, however Elizabeth's niece, Marion Turnbull is shown as living in the household and Elizabeth's sister, Mrs. Jessie Cass nee Fea, was residing nearby. After 1885 the confectionery moved to 421 W. Rollins near or in the same building as the boarding house at 413 Rollins. The 1895 city directory lists Elizabeth's youngest brother, Nixon Fea , as living at 208 South 4th. By 1902 also living at 413 Rollins were Thomas W Fea and James W Fea, nephews from Newport, Washington. Thomas W. Fea was still there in 1905 as a baker but Dennis Kelly and James Fea were in Victor, Colorado where Dennis was operating Kelly's Shoe Store. While Dennis Kelly had moved to Colorado and Thomas Kelly to Nebraska, Leonard is thought to have stayed in Missouri.
Elizabeth lived out the final days of her life in Moberly, passing away on the 1st of February 1933.