Joseph Smith Fea and Sarah Elizabeth Hattery
Joseph Smith Fea married Sarah Elizabeth Hattery (b. 8th January 1856 at Yates Center, Kansas) in 1882. They had four sons:
John Fea b. 24 February 1891 d. 24 February 1891, Wayside, Washington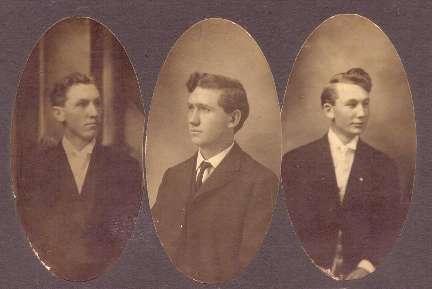 Thomas Wallace Fea, Joseph Simpson Fea & James William Fea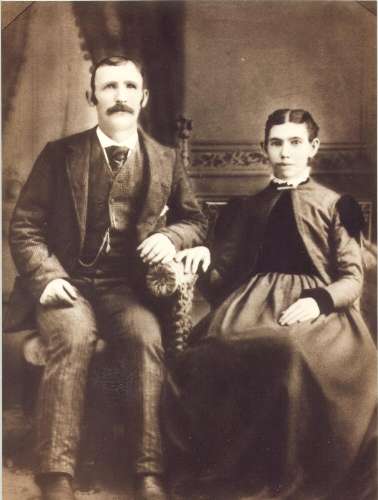 Joseph Smith Fea and Sarah Hattery
Born 31st December 1850 in Falkirk, Joseph Smith Fea immigrated to the United States with his parents in 1853 and spent most of his youth in Potosi, Missouri, including the Civil War years. Trained in woodworking, he owned and operated a portable sawmill and built boats, carriages and buildings. In 1887 he, Sarah and their two sons travelled west in a covered wagon pulled by a team of Missouri mules to settle in what was then Washington Territory, subsequently Washington State in 1889. He homesteaded land on Half Moon Prairie, north of what is today the city of Spokane. He named that settlement the town of Wayside and was appointed the first Postmaster. Eventually his sister, Jessie Cass nee Fea, and her husband joined him and homesteaded land approximately 20 miles to the northwest of Wayside on the Washington / Idaho border, property that Jessie would eventually subdivide to form the present-day town of Newport, Washington.
Sarah died on 25th February 1891 in Wayside, one day after giving birth to a short-lived fourth son (there is some confusion over whether there was just one child or also second that was stillborn). It is thought that Sarah and child(ren) are buried together in an unmarked grave on either their homestead or just immediately west of it in what is now the Wayside pioneer cemetery. After the loss of Sarah, he built the Newport's first post office finishing it on the 13th of June 1891. By 1893 Joseph had sold his property at Wayside and moved to Newport where his sons could be looked after by their aunt Jessie. His mother, Ann, was then also residing on the Cass homestead. Joseph Smith Fea never remarried and died on 14th April 1938 at the home of his son, Thomas Wallace Fea, in Usk, Washington.