Jessie/Jennie Fea
Jessie Fea was born on 28th March 1856 in St. Louis and accompanied her family circa 1859 when her father, Thomas Brown Fea, homesteaded near Potosi, Missouri. Sometime after his death in 1870, she moved to the Moberly, Missouri area, most likely to live with or near her widowed sister, Elizabeth Kelly nee Fea. Jessie bore no children even though she married and divorced twice:
(1) John Wesley Cass on 17h July 1877 at Randolph County, Missouri.
(2) Richard P Scott (b. 7th May 1859, Corvallis, Benton Co., Oregon) on 31st May 1899 Stevens County, Washington.
In 1892 John Cass moved from Missouri to the Washington / Idaho border area and homesteaded land on the site of what was to become the town of Newport, Washington. Jessie joined him in 1893 along with her mother, Ann Fea nee Liddle. By 1895 John Cass had deserted both his wife and the homestead, leaving Jessie to petition for the land grant, which was awarded to her in 1898. Jessie's divorce hearing from Mr. Cass took place on 8th December 1897, she citing his abandonment and public drunkenness. Divorce was granted in Stevens County on 11th May 1899.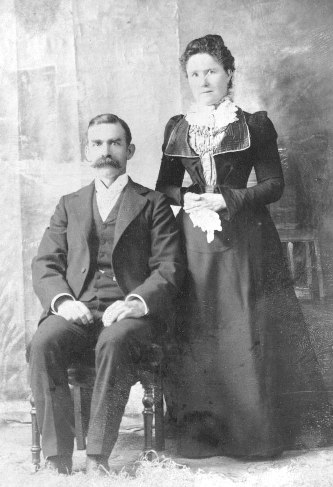 Richard Scott and Jessie Fea
Subsequently, Jessie married Richard Scott and around the turn of the century they laid out Jessie's property into a plat with streets (including Fea, Cass and Scott Avenues) and began selling lots. As she had hoped, Newport grew to become the seat of the newly formed Pend Oreille County, owing no doubt to Jessie's donation of land for the first courthouse (which bears a plaque honouring her), the first high school (demolished in the 1980s) and the first airport (no longer in existence).
In approximately 1905 she constructed her second restaurant and bed-and-breakfast style inn named Newport's "Cottage House", closing the first when the new facility opened. She was renown for her meals and hospitality and often drew Spokane's elite to partake in her cuisine. Her mother Ann died in May 1909 while residing with Jessie at this establishment. On 15th September 1916 Jessie was granted a divorce from Mr. Scott.
After the premature birth of her grandniece in 1924, Jessie travelled to the hospital in Spokane where Mae Fern Fea nee Schultz and child had been transported. Jessie named the baby Jennie (after herself) and Wren owing to the infant's small size. Jessie cared for the child while Mae weakened from congestive heart failure, dying on 13th November 1924. Jennie Wren Fea often credited Jessie's attentive nursing during the first months of her life for her own survival.
Jessie died of a heart attach the 1st of April 1937, near the end of the Great Depression, leaving the Cottage House and her property to Ben Brown, her two grandnieces and grandnephew, Jonelle, John and Jennie Wren Fea and nephew Joseph Simpson Fea. Jonelle, John and Jennie, being in their minority, were not informed of their inheritance. Joseph Simpson Fea attempted to continue the business but he died of a heart attack in 1939. After the death of Joseph Simpson Fea the property fell into arrears and was lost to foreclosure in 1940, even though other heirs (still uninformed) were then capable of paying on the debt.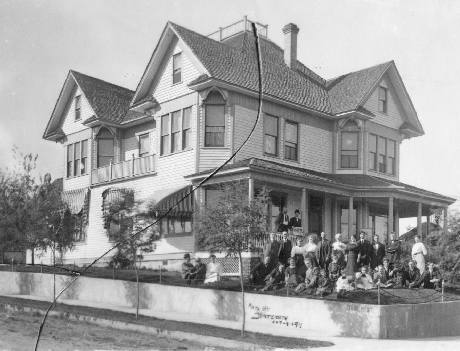 Cottage House 1911 (from plate at Pend Orielle Historical Society)
By 1947, the "Cottage House" had been demolished. The lot was later levelled and is now the location of Newport's Masonic Lodge. Jessie and her grandniece namesake, Col. Jennie Wren Fea, are honoured with significant displays at the Pend Oreille County Historical Museum at Newport.