James Kemp Fea and Jemima Ross
James Fea was on born 2nd August, 1857, in Rousay. He was a Bookkeeper. He migrated to USA in 1881 where he married Jemima Johnston Ross on 6th January, 1886 in Cook Co. Illinois. Jemima was born 6th January, 1867, Rosshire, Scotland, daughter of Donald Ross & Magaret Leslie. She had arrived in USA in 1880.
They lived at 416 Park Avenue, Chicago in 1900.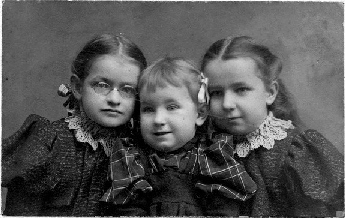 Alice, Mary and Dorothy Fea
Their Children were
Mary Patricia was born 1886, died. 9th December, 1958, aged 72 years; Chicago, Illinois, USA Mary lived at 416 Park Avenue, Chicago. In 1910 she was a Clerk in a mail order house. In 1920 she was a Sales Lady in a Department Store
Leslie James was born 7th January, 1888 Chicago, USA (premature birth); d. 7th January, 1888 - age 1 day
Alice Ross was born 11th February, 1889 Illinois, USA d. December, 1971, Africa. Alice lived at 416 Park Avenue, Chicago in 1900 and later at 651 North Avenue, Chicago. She worked for the Marshall Field Company, 121 North State Street, Chicago, where she was a Biller dry goods in 1910 and an Office Clerk in 1920.
Frances Margaret was born 30th May, 1891 at Chicago and died at Chicago 27th July, 1891, aged 1 month, 28 days of Hypertrophy of Liver.
J Jemima was born 30th May, 1891, Chicago
Dorothy L was born June 1894 in Illinois. She lived at 416 Park Avenue, Chicago in 1910 and 651 North 53rd Avenue, Chicago. She married Mr Gibb
Baby b. 3rd June, 1898 (stillborn) at 416 Park Austin, Illinois
Edith was born 11th August 1899 and died 31st August, 1899 at Austin, Illinois, aged 20 days, of Marasmus
James died on 22th January 1901 by suicide at the Northern Hospital for Insane and was buried 24th January, at Forest Hills, Chicago. Jemima died 30th April, 1925 at 651 North Lockwood, Chicago (degeneration of the brain) and was buried 5th April, 1925 Forest Hills.
Note: James' wife Jemima is listed as the mother of 7 children three of which are living. This means that the two Fea children found on that death index most likely belonged to James and Jemima. The census record lists James as a bookkeeper, that he immigrated to the U.S. in 1881 and is an alien. Jemima is listed as born in Scotland as are her parents, immigrated in 1880 but it doesn't say if she's naturalized or an alien that they are renting their home. Their daughters Mary and Alice are listed as being in school. All can read, write and speak English.

State IL.Census Vol. 74, Enumeration District 1133, Sheet 4, Line 61
Death Notice:
FEA - Jemima Ross, beloved mother of Mary P., Alice R., and Mrs. Dorothy F. Gibbs, daughter of the late Donald Ross, absent from the body, present with the Lord, April 30, at 651 N. Lockwood-av, Funeral Saturday 2.30 p.m. from Austin Gospel Hall, 748 N. Leamington-av: interment Forest Home. Please omit flowers

The Chicago Daily News, May 1, 1925 - pp 46
Death Notice:
FEA - Mary Patricia, Dec. 9, 1958, daughter of the late James Fea and Jemima Ross Fea, beloved sister of Mrs. Dorothy Fea Gibbs and Alice Ross Fea. 'Absent from the body, present with the Lord.'
At funeral home, 318 N. Central-av., Austin. Funeral Thursday 2.30 p.m. Interment Forest Home
Austin 7-0017.

The Chicago Daily News, Wednesday, December 10, 1958, pp62