John Fea: Lock Keeper
/
Thomas Brown Fea
/
Joseph Smith Fea
Thomas Wallace Fea
Thomas Wallace Fea was born to Joseph Smith Fea and Sarah Elizabeth Fea nee Hattery on 1st January 1884 in the Chickasaw Nation, Indian Territory, which was later to become the state of Oklahoma. He spent most of his life around the Usk, Cusick and Newport, Washington area, on the Washington / Idaho border. He served in WWI as Pvt. 1C1 333bn Tank Corps and his discharge papers are signed by then Lt. Col. Dwight D Eisenhower.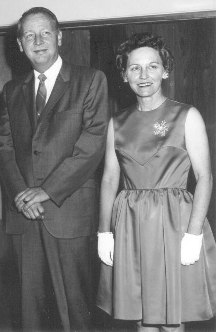 John Lawerence Fea and Jennie Wren Fea
He married (1) Mae Fern Schultz (b. 4th June 1901) on 16th July 1920. She died of congestive heart failure on 13th November 1924, at Spokane, Washington several months after giving birth to a pre-mature baby girl, her second daughter. They had three children:
Jonelle (Nellie) Mae Fea (living)
John Lawrence Fea (deceased)
Jennie Wren Fea (deceased)
On the 30th of June 1927, Thomas married (2) Eda Pearl Knox (b. 13th March 1883, Spencer, Indiana d. 17th January 1968, Gresham, Oregon). Pearl, as she preferred to be called, was an elementary school teacher. Unable to conceive, which she and Tom knew that at the time of their marriage, Pearl lovingly raised his three children.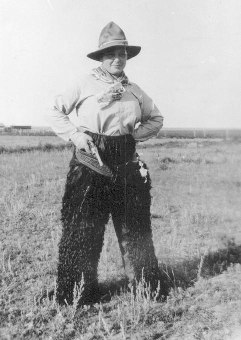 Eda Pearl Knox
Thomas owned a pole yard, where trees were cut for poles for the utility services. As a result of an accident at the yard in the late 1930s, his insurance premiums increased and since the United States was in the throes of a deep depression, he chose to let the insurance lapse in order to keep the mill open and men employed. Unfortunately, another accident resulted in the loss of the business.
In 1938 Thomas ran for and was elected to the office of Pend Oreille County Commissioner. At the onset of World War II his middle child, John Lawrence, enlisted in military service while still a minor. Thomas immediately had him recalled until he finished high school and reached the age of 18. John, once 18, re-enlisted in the U.S. Army.
On December 7, 1941 Thomas's daughter Jonelle and his son John were living in Honolulu, Hawaii, John stationed at Schofield Barracks. Fortunately both survived the attack on Pearl Harbor. Thomas's youngest daughter, Jennie Wren Fea, would later join the war effort by enlisting in the Women's Army. She never married and continued in military service until eventually becoming one of the first 12 women to be promoted to a full "bird" Colonel in 1969, when that rank was finally opened to female officers.
Thomas never lived to see that. He suffered a stroke shortly after being elected as County Commissioner and while seeming to recuperate from it, suffered a second and died on the 13th of February (his son John's birthday) in 1942. He is buried in the family plot at the Newport Pioneer Cemetery.