Introduction
/
The Island
/
Island Life
/
Social Activities
Courting
On summer nights in the old days, lots of courting would be going on as the young folk herded the sheep, keeping them on the Pharay Holm when the tide was out. This would continue until the crop was in at the end of the harvest and the sheep were allowed to wander back to Pharay. The creation of the sheep dyke at the time of the planking in the 1840s meant less need for the herding.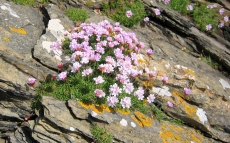 Photo: Douglas Caldow


A man might attract the attention of a lass of the house by tapping on the window.
Of course, there was also the added difficulty of getting a boat to Eday if your lass happened to be there. Different houses in the West Side had the tap on the window at different times with marriage on occasion ensuing.