John Hadden Fea and Eliza Tough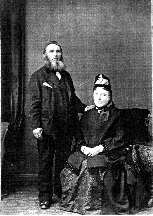 John Hadden Fea and Eliza Tough

John Hadden Fea was born on 10th July 1827 on Stronsay. His occupation was Farm Servant and Fisherman. John married Eliza Tough on 15th December 1848 in the parish of Evie and Rendall, in which parish he was then living. Eliza was the illegitimate daughter of John Tough and Elizabeth Rendall.

John and Eliza had ten children, all born at Heliascarth. Heliascarth is a long low Orkney cottage with a garden around it and a small fence (picture)
John Fea born 14th October 1849 in Evie
William Beattie Mowat Fea was born on 6th October 1851 in Evie and Rendall. He emigrated to New Zealand in 1871. There he married Sarah Coburn and they had five children.
Eliza Rendall Fea was born on 23rd December 1853 in Evie and Rendall. In the 1881 census she was aged 27 and a pauper.
David Miller Fea was born June 13 1856 and emigrated to New Zealand in 1873. He married Jane Stuart Clark and they had eight children
Anne Rendall Fea was born on 4th September 1859. She married David Yorston and they had four children.
Margaret Jane Fea was born on 14th January 1862. She married Isaac Mowat.
James Fea was born on 11th May 1864. He migrated to Australia and married Susan Sarah Cook at Wickham, NSW, in 1895. James died in 1930 at Manly, NSW. James and Susan had six children:

John Hadden Fea

James Albert Fea
Florence Ethel Fea
Sarah Victoria Fea
George Cecil Fea
Winifred Leila Fea
Elsie Susan Fea

Sarah Folsetter Fea was born on 25th November 1866 and married James McBain Hume. Their second daughter Catherine married Eric Layzell Davidson and their son Carrick, now retired from the National Bank. lives in Auckland. Sarah died 3rd December 1932. [Check spouse details]
Jemima Ingram Fea was born on 12th June 1869. She married Andrew Ross and she died on 17th November 1901 at the age of 32. Jemima and Andrew had three children:

Elsie Ross Fea
John Ross
Annie Ross Fea

Isabella Jessie Fea was born on 11th February 1873. She married John Yorston but died on 20th October 1898 at the age of 25.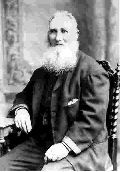 John Hadden Fea





John Hadden Fea died on 28th September 1911 and is buried at the Rosebank Cemetery, Leith.