Introduction
/
The Island
/
Island Life
Second World War
The Second World War had an effect on all places in the country although its effects varied. Rationing affected the island as it did elsewhere. With rations only coming once a week and, occasionally the island being cut off for two weeks, some items were scarce. Households continued to produce much of their own food so consequently might have been in a better position than some living in large cities.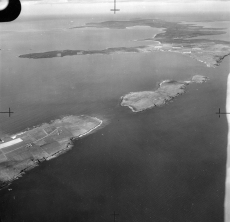 North end of Pharay and Pharay Holm
© Courtesy of RCAHMS (RAF World War II Collection).
Licensor www.rcahms.gov.uk
While there was conscription into the forces during the war, farming was a "reserved occupation" and consequently the war's consequences may not have been as direct for some of the islanders.
The island's population had already shrunk to a low level. Gillies Harcus of Doggerboat lost his life in 1940 as an able seaman, aged nineteen, on HMS Afridi on 3rd May 1940. He was a son of Peter Harcus and Jessie Moodie.
In Pharay, a spitfire came down near Lakeqouy and another spitfire in the sea off Fersness, Eday.