Introduction
/
Pharay Photos
Ariel Photo from WWII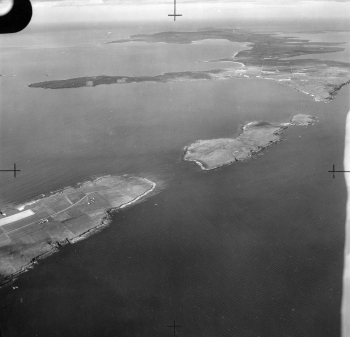 © Courtesy of RCAHMS (RAF World War II Collection).
Licensor www.rcahms.gov.uk
A Royal Navy WW II ariel photograph looking north west. The photograph shows the north of Pharay and the Pharay Holm, separated by Lavey Sound with Westray in the background.
The Second World War affected Pharay as it affected other parts of the country. There was at least one Pharay man who lost his life. There was one Spitfire that came done on Pharay and another crashed into the sea.
See also a more recent ariel photo in colour.