Introduction
/
The Island
Geography
Pharay is an island of around a mile and a half in length, lying between the much larger islands of Westray and Eday. Rapness is the closest district in Westray to the island and consequently has been one of the lines of communication for Pharay with the rest of Orkney. The Rapness Firth separates the island from Westray.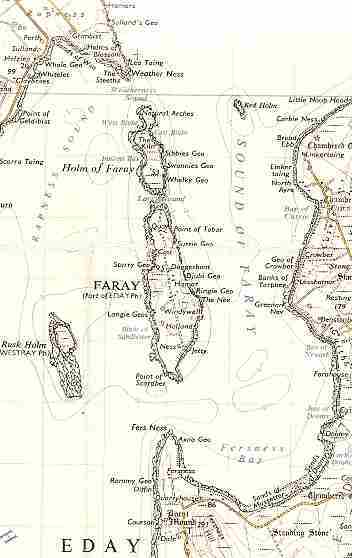 From Ordnance Survey One-Inch Map of Great Britain:
National Grid Seventh Series - Fully revised 1957
A roll-on / roll-off ferry now makes frequent trips between Kirkwall on the Orkney mainland to the ferry terminal at Rapness. When Pharay was occupied, the main pier on Westray was at Gills Bay, much further north.
The Pharay Holm lies to the north of Pharay itself, separated by Lavey Sound. There is only a short distance between the north end of the Pharay Holm and the point of Weather Ness on Westray.
The other main island influence on Pharay was Eday, which lies to the east and is separated by the Sound of Pharay. Contact was maintained with the Guith district. It should be noted that the Point of Fersness, immediately south of Pharay and on the West Side of Eday is fairly close.
A small holm named Rusk Holm lies to the west of the south end of the island.
A map of the island indicates a coastline consisting for the most part of numerous geos, small cliffs and caves. A road runs the length of the island with the houses forming an irregular line from north to south, with some further from the road than others.