Introduction
/
The Island
/
Geography
Pharay (Faray)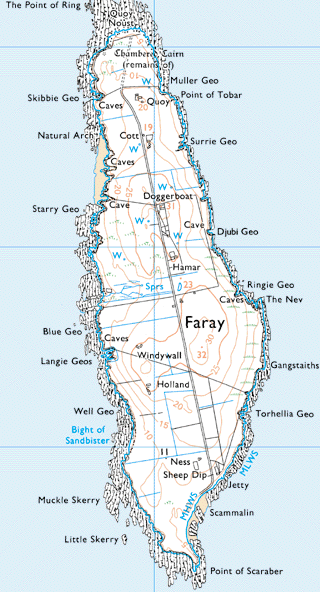 From Ordnance Survey Explorer Series (1:25000) (2003)
Pharay extends to 445 acres and rises to a height of only 103ft. It is separated from the Pharay Holm to the north by Lavey Sound. There are many geos on both the east and west sides.
There were generally eight tenancies on the island, Quoy being the most northerly and closest to the Pharay Holm. Cott and Doggerboat were next going south and close to the road, which ran the length of the island.
Drinking water came from wells. The school is not shown on this map but lies on one of the highest points on the island, between Doggerboat and Hammar (Hamar).
Lakequoy is also not shown but was to the south of Hammar and on the west side of the road. There is a small burial ground to the west of Lakequoy with the site of an old chapel.
The next houses going south were Windywa (Windywall) and Holland with the Ness in the south end of the island and closest to the jetty, which was constructed in the 1930s.
Kelp was at one time made at the north end of the island and at the geo at the south end near the jetty.